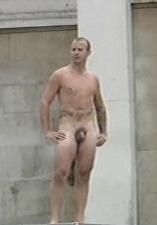 …and I want to know what happened next!
Yesterday afternoon, there was a naked man on the plinth. A young, good looking man who stood proudly naked, apart from his tattoos. The crowd wolf-whistled, cheered, photographed, admired and smiled especially the women. They were reduced to behaving like girls. Grown women giggled, nudged and whispered to their friends whilst all the while not taking their eyes off him. It was amusing but not dramatic.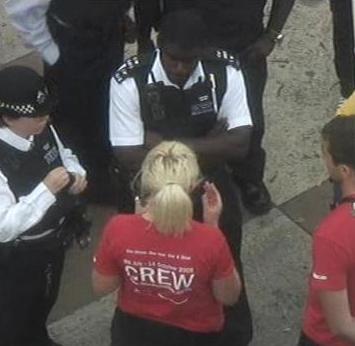 Jug, unlike Susanna, was not modest but walked around, smiled and posed for pictures. He looked very comfortable but would he be asked to put his clothes back on? The police did come to have a look but, after discussions with the One & Other organizers which we couldn't hear, he was allowed to continue with his hour, unclothed. So, no drama there then.
Yet, within that hour, a small unexpected drama was played out.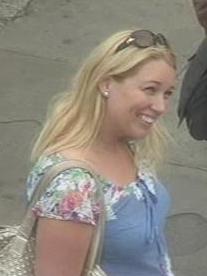 Many women stood appreciating the unexpected beauty of the art work in front of them but none so intently as a passing lady in blue. She stopped, she looked, she smiled. She then wrote a note as she spoke into her 'phone. A note which she then gave to the security attendant, one presumes, to pass to the man on the plinth. It was only a few minutes and one small action but it now leaves me with a number of questions.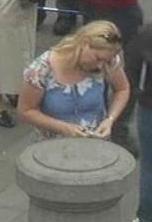 Did she realize she was caught on the webcam for the world to see, surmise and comment on? Did Jug get the note? I also want to know what the note said. Was it just admiring praise, asking for a life model, or a suggestion to have a drink together? If the latter, hopefully, she wasn't doing anything she wasn't supposed to! But what was his reaction?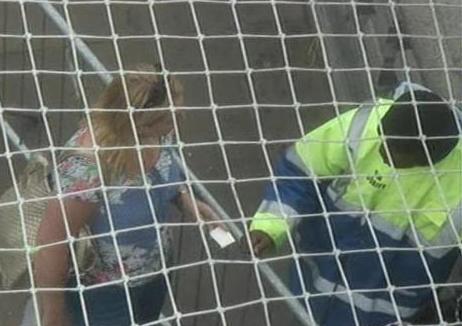 From those very few minutes within the hour, a whole drama was potentially unfolding but, frustratingly, there was no neat Aristotelian beginning, middle and end. We just saw a start but what followed, if anything, we'll never know! That's real life for you…