…it gets in the way!
I have discovered through this whole process that I really enjoy writing this blog. I've even discovered I don't really care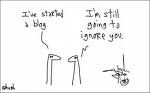 if it's read though, obviously, I would prefer that it is; please go ahead, read away, continue.
As I say, real life gets in the way and I've really missed the opportunity to put my thoughts down in the last two weeks due to various demands on my time. I didn't realize this would be the case.
I've been surprised how frustrated I've been, even angry, that I haven't had the time to let the words flow and,

surprisingly to me, they do exactly that, they flow. They pour out in a way I never expected because, whilst I write at work, I find it quite difficult at times. Then those of you that have written a project definition report know what fun they are. Yes, I do jest.
I've become quite adept at finding little bits of paper to jot down my thoughts. I have scraps of paper in my handbag, diary and book. I've become proficient at writing on the tube. The handwriting is rubbish but the movement of the train seems to shake loose my thoughts and the words flow onto the back of shopping lists, old envelopes and library receipts.
My objective is not originality or profundity and I find I don't want to create characters and dialogue and devise imaginative scenarios for them. I enjoy reading too much for that. But I've become aware of sentence and paragraph construction, the use of words in a way I never have before. Though it might

not seem so to you, dear reader. So writing this blog is very different for all these reasons and also because I have the freedom to write what I like, when I like, and have a ready-made vehicle to publish it. A control-freak's dream!
There are so many aspects of this project, and the thoughts that it raises that I still want to make mention of, so this is just to let you know that I'm back on air and further installments will now appear on a regular basis, read or not!