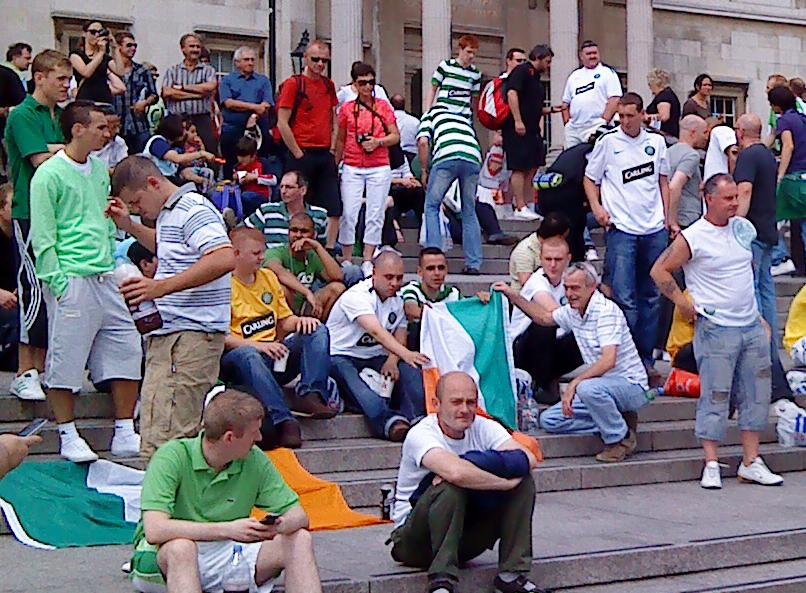 …and East Ham Church ladies and today a Tamil rally. The plinthians that have been on over this weekend have coped with these distractions with varying degrees of success.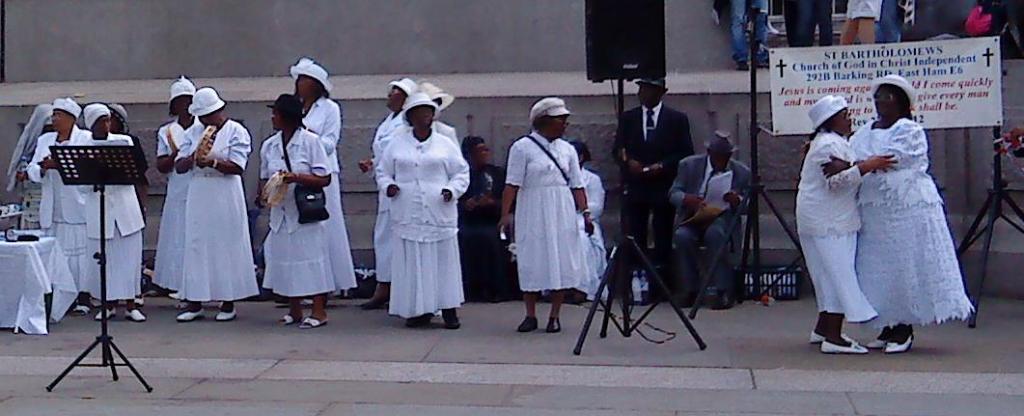 There were rowdy football fans singing and dancing around like only men, in a large group without their womenfolk around, can. This contrasted starkly with the ladies from the East Ham Church of God who were all dressed in white and singing their hymns. The two groups provided a complete contrast to each other in terms of gender, age, race, faith and behaviour.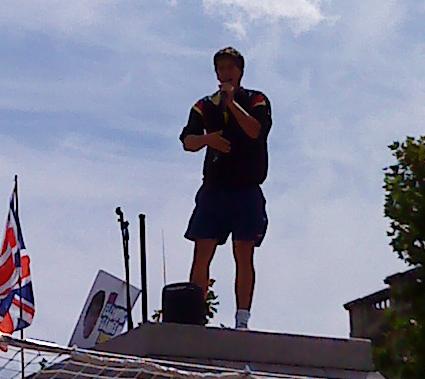 Against this background, Ellympics was fantastic. It was fun and really involved the crowd. Elliott was not in the least over-shadowed by these distractions. There was an anthem, paper plane tossing, egg catching and a slow motion race, for which I couldn't quite work out the rules. I would've thought the person who came last would win but, no, it was the little girl who crossed the line first – but just very slowly! As I say, I didn't quite understand what it was about but everyone joined in including some passing cyclists.
The chap that came after Ellympics caused people to walk off in droves. He seemed to be doing an homage to the history of protest in the Square. He held up a banner about not paying the poll tax, wore a t-shirt with the slogan 'Love and Taxes' on it but as the crowd were not sure what was going on – they left, including me!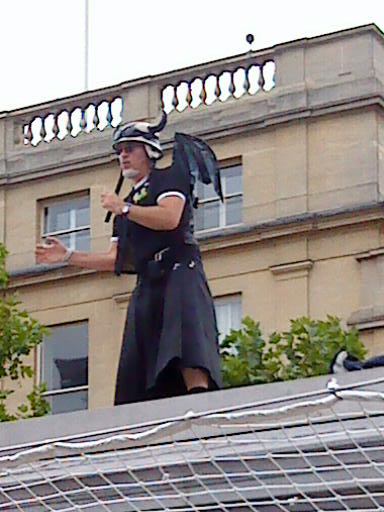 Today there was a huge Tamil protest rally in Trafalgar Square but the plinthian that took my eye was the 'Dancing Dad'. He was doing his own silent disco wearing a man skirt, horns and wings! The picture explains all, well, nearly all.
Dancing Dad silently gyrated to his music whilst hundreds of people protesting below him made a huge noise. Given that he had both horns and wings, I wasn't sure if he was an omen for good or bad but, I decided, it had to be for good because he looked so happy to be there dancing away on the plinth.
It then started raining – what's new this summer - so I went to have afternoon tea in the National Gallery. It's one of my favourite meals, full of refined carbs, diary fats and sugar, all washed down with lots of Earl Grey tea – lovely! I was waiting for the Knitted Flowers Lady but, whilst I waited, I ate cake…which is something we plinthians have been accused of lately, you know, world going to wrack and ruin and we just cavort on the plinth – well, it's true and what fun it is.