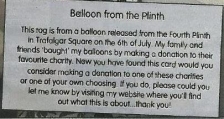 …a donation made and a message left!
When planning my stint on the plinth I did hope the 'charity message in a bottle' idea would come to fruition. What I hadn't planned on was the rain, especially with it meeting, head-on, the environmental requirements I had set myself.
The cards were made of recycled pulp and designed to degrade very quickly so quickly, in fact, they were falling apart as I put them on the balloons. I came down from the plinth with bits of card stuck all over my hands. This, combined with the absolute torrent of rain on the following day, I resigned myself to not getting any responses back at all.
Well, I'm glad to say I was wrong, and balloon label 42, which was Caryn's balloon, was found in a horses' field in Drinkstone Green in Suffolk. The finder is Barbara Gregory who has decided to keep up her monthly gift aid to The Brooke Hospital and becomes donator number 70. I was also glad for Caryn because, as much as she wasn't on the plinth, she has become an active part of my hour.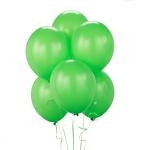 I was saddened by Barbara's story of not being kept on by her employer when she turns 65. It's a subject close to my heart as I get older. Self-interest, yes, but as someone who grew up in the 70s both here in the UK and in a small city in Australia – Adelaide – where opportunities were not always so forthcoming, having the opportunity to work is a subject that is very important to me. Especially as we find ourselves in a society being encouraged to work longer but faced with employers who are not always willing to allow people to do so.
I could write so much more about this subject, but I won't, because the purpose of this blog is not to have a rant about political and social issues, there are others who can do that far better than I, but to say 'thank you' to Barbara and to wish her well in her job search.